As many of you know, I grew up in and around Nashville, Tenn. So, most of my Internet time over the last three days has been spent following the historic flooding overtaking the city — including my hometown.
There are no reports of major damage or injury to anyone in my family or circle of friends, but I'm still thinking about everyone facing tragedy. It's simply surreal to see footage of one's boyhood neighborhoods under water.
This is also another case study for the power of social media.
I've spent more time on Twitter, Facebook and YouTube learning about the crisis than local news sites (my mother tells me one of the television stations itself is flooded).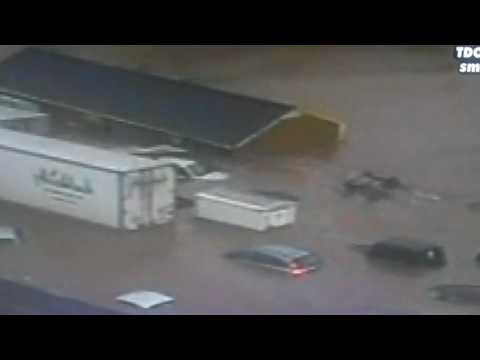 I know this isn't Falcons related, but it is news as it regards to how we consume our information and a reason to — if you haven't already — reach out to anyone you may know in Middle Tennessee and Southern Kentucky.
I'd certainly appreciate it.
Falcons Staffers Support Community, J. Mike's Missives
Friday was a special day for the Falcons front office, this blogger included.
Rookies set to start earning their stripes at mini-camp, Atlanta Journal-Constitution
The fun starts this Friday in Flowery Branch. Fans are welcome to both practices Saturday.
Sports celebrities past and present pitch in at Bethesda's youth camp, Savannah Morning News
Falcons hit the road for this community event.
The Best and Worst Sports Seasons in Atlanta History, and Other Stuff, The Falcoholic
Graphs, numbers stats and everything in between.
NFL QB's life-saving advice for men, Savannah Morning News
Former Falcons quarterback shares part of his post-football story.
AJC: Rookie Falcons Look To Have Prominent Roles In 2010, The Falcoholic
Is it just me, or is quarterback about the only position where it's "OK" for a rookie not to make an immediate impact. Even then, sometimes they do. It's a "what have you done for me lately" league.
Mini Boot Camp, The Canvas by Superfan
Falco introduces Falcons rookie to a special part of the fan tradition.