With the second of two fifth-round picks the Falcons selected Kansas wide receiver Kerry Meier. A former quarterback, the 6-foot-2, 224-pound player ran a 4.52 and a 4.51 at his pro day.
He also has a proven ability to catch the football…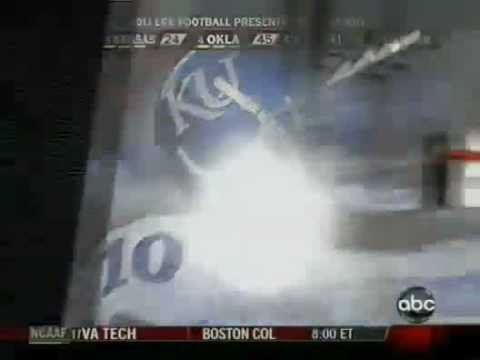 Meier played in 35 games and recorded 226 catches — a school record. In the process he became the first Jayhawk to record more than 100 catches in a season (102) in 2009.
The brother of former Titans tight end Shad Meier totaled 2,309 career receiving yards (18 touchdowns) and 417 rushing yards (six touchdowns) at Kansas.
Unlike other players selected by the Falcons, Meier did not have an individual workout with the club.
"Coming from Kansas and being an ex-quarterback I think (I bring) a knowledge of the game," Meier said. "I'm not going to wow you with my speed or anything like that but I pay very close attention to what I'm doing… I think I do the ordinary things extremely well."
Meier said he transitioned to a NFL-caliber receiver over the last two seasons — nothing drastic. He credits the Jayhawk's spread offense for opportunities to improve his skills in the passing game.
"He's right on that borderline (for speed) but for a guy who's 220 pounds and a guy who's a smart route runner and has a nice feel on the field as far as getting to the open spot," General Manager Thomas Dimitroff said. "Combined with his concentration and hands — we were comfortable with that."
MORE ON MEIER:
MORE NFL DRAFT COVERAGE: