NFL.com's Steve Wyche — a friend of the AF.com program — was in Flowery Branch Tuesday working on his ongoing "On the Fringe" feature, which follows the fate of five players fighting for their NFL lives.
Falcons linebacker Coy Wire is among the featured players.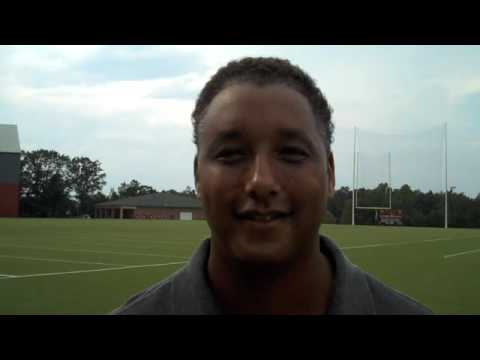 Wyche said fans can expect more of Wire and his teammates on NFL Network toward the end of the week or early next week (the whole Brett Favre to Minnesota story likely pushed back the NFL.com schedule).
But, since Wyche also has a great working knowledge of the Falcons, we hit on some more details of the preseason…
"On the offense, there's not going to be any problems here as long as they stay healthy," Wyche said, continuing the predominant chorus that sings the praises of 10-time Pro Bowler Tony Gonzalez and returning Pro Bowlers Roddy White and Michael Turner. "They're going to move the ball; they're going to score points."
When it comes to defense, Wyche expects the team to have some growing pains.
"They'll get there," he said of the unit which will begin 2009 with five new starters. "They just need to get there before they get to that third or fourth game because the schedule gets really tough."
Still, the veteran sportswriter and broadcaster said fans shouldn't panic over the team's performance in the preseason.
Wyche likes Thomas DeCoud's range at free safety but said the second-year player must mature quickly if he's to make an impact, especially if he's backing up young corners like Brent Grimes or Christopher Owens.
Wyche also said fans should look for a scheme change along the defensive line, where it's tough to replace the imposing, two-gap player Grady Jackson (especially in size). Rookie Peria Jerry is more of a ""gap penetrator," according to Wyche and will disrupt more than he holds up linemen at the line of scrimmage.