The Atlanta Falcons selected Ole Miss defensive tackle Peria Jerry with the 24th pick in the NFL Draft Saturday evening, giving the Birds a lineman that can add teeth to the pass rush and stymie an opponent's running game.
At 6-foot-1 and 299 pounds Jerry has the skills to take on blockers or get to the quarterback. General Manager Thomas Dimitroff said the team had its eye on Jerry from the begining of the draft.
Applause could be heard from the Flowery Branch draft room as the Falcons made the selection.
As a junior at Ole Miss Jerry recorded 58 tackles (14 for loss). He played a big part in a defensive turnaround from 2007 to 2008. The team ranked fourth in the nation in rushing defense last season after ranking 101st the previous year.
"Peria rises to every occasion that we've challenged him to (in 2008)," Mississippi defensive coordinator Tyrone Nix said. "There are so many people across the country who haven't seen him and what he can do. He's a kid that's been a force for us in the run game, in the pass game and in every aspect. I'm just proud to be able to say that I coached him his senior year."
Jerry led the SEC with 18 tackles for loss as a senior. He registered 10.5 sacks over the last two seasons.
He won SEC Defensive Player of the Week honors four times and, according to NFLDraftScout.com, produced a "dominating week" at the Senior Bowl.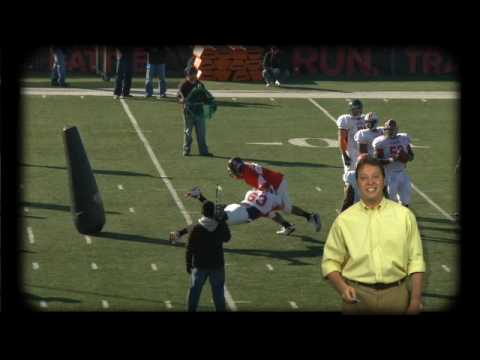 Jerry held a private workout for the Falcons before the draft and said Friday night he didn't expect the team to pass him up if their paths crossed at the bottom of the first round.
He acknowledged the team's quick rise to playoff contention and said he's excited to play with a young group of players in Atlanta.
"I think I can help them out in numerous ways," he said. "With my quickness, speed and strength I think can be a great addition to the Falcons.
"I'm looking forward to getting better with a young team."
Dimitroff talked of Jerry's toughness soon after the pick and looks for the Ole Miss star — a leader and popular figure among his teammates — to take a motivational role.
"Mike Smith's background is to have an intense, passionate football team and an intense, passionate defense… Peria is that type of guy," Dimitroff said. "He's the type of guy that's going to work day-in, day-out on the field and continue to get better. He's going to set the tone on the defensive line and help us set the tone on defense."
MORE ON PERIA JERRY:
Jerry is scheduled to meet with the media at 9 a.m. on Sunday, April 26. Look for live coverage on AtlantaFalcons.com.